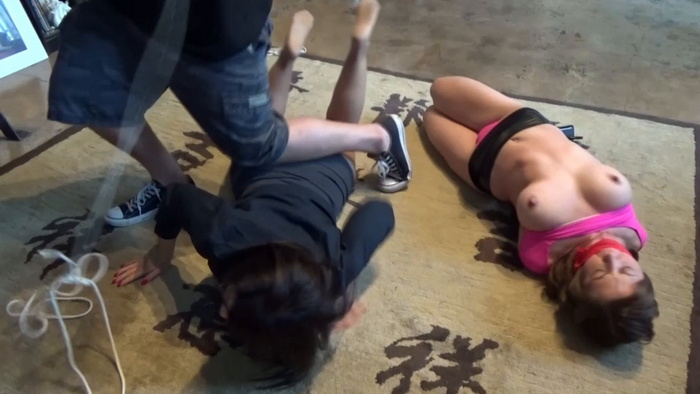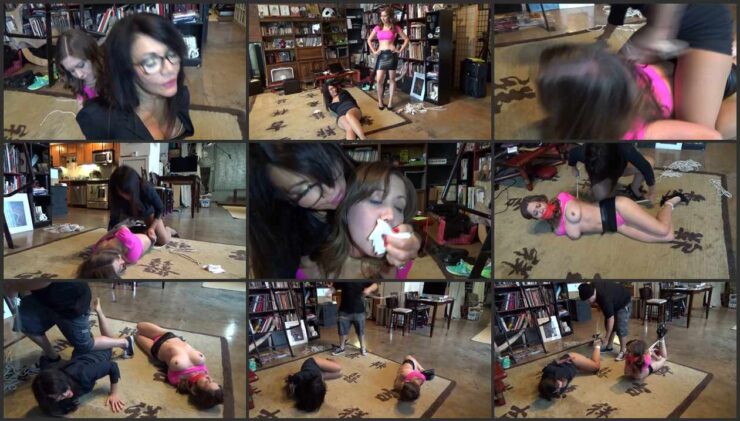 Watch online or download video:
Information
File
: mgg101416_chrissy_robbers_bdg.mp4
Size
: 352 MiB
Duration
: 13 min 36 s
Format
: MPEG-4
Video
: 1280x720 (16:9) at 29.970 fps
Audio
: AAC LC at 128 kb/s 2 channel(s), 48.0 kHz Language: en
Antivirus status: Safe
Description
As the manager of a bank, I'm always working and I sit at my desk at home resolving problems. Suddenly I feel a a big beefy hand over my mouth and a large muscular arm lifts me out of my chair and drags my kicking body down to the floor. He presses a wet cloth over my mouth and nose as his cutesy partner in crime Chrissy Marie watches and I feel the room spinning. He demands the pass code to the bank's safe as he and his girl double team me tying my hands behind my back. I mumble the numbers to the code and he goes off to the bank leaving his bimbo partner Chrissy Marie to watch me. I realize she is as dumb as she is pretty so I begin to panic in the bondage.
I tell the dumb girl that I have a heart condition and I need my medicine. I beg to be untied and claim that my heart is palpitating. Naive Chrissy Marie falls for my act and unties my hands so I can get to my medicine. Instead I grab the girl in a tight hold and wrestle her to the ground straddling her to subdue her. She struggles and fights with all her might as I give her some fumes. Once she's calm I pick up a piece of their rope and bind her elbows together behind her back making sure to cinch the rope super tightly. I smack her face as she awakens and tie her ankles together. Chrissy kicks and bucks her body, but I am stronger and she can't get loose. I shove a rag into her big mouth and seal it in gagging her with elastic bandage wrapped around and around her pretty face. Your partner is going to be mighty mad at you sweetie.
You were supposed to watch me and now look at you. This infuriates pretty Chrissy and I laugh as I expose her big tits. Awwww you couldn't even watch an old lady you dumb thing. I hogtie Chrissy pulling the rope tight giving her into a nice back arch. As I'm finishing the last knot, the big guy returns and pulls me off of Chrissy's bound body. He pins me down under his knees and proceeds to tie me up. The big burly bastard starts with my elbows and I cry out in pain begging and pleading for my life. I tell him to take Chrissy and go, but he says she is worthless and continues to bind my body. I roll and struggle on the floor pleading with him and he tires of hearing me beg. He pins me between his thighs and pushes a large rag into my mouth securing it in with layers of clear tape. He hogties me just like I hogtied Chrissy and then informs us he is out of here leaving the two of us bound, gagging and struggling in our tight bondage.