Toples Candle & Natasha struggle on a chair-tied

Secretary Candle Boxxx was typing at her desk in her sexy skirt, silk blouse, pantyhose and high heels when an intruder slips in. She's handgagged from behind and ordered to cooperate! He pulls Candle's hands behind her office chair and ties them together there. Then he pulls out a long scarf and wraps it twice between her lips for a nice, thick cleave gag. He almost has Candle chair-tied when another secretary, Natasha Flade, in a sexy sweater and heels, strolls in. She was just about to ask Candle a question when the intruder leaps up and handgags her, too! He forces Natasha down onto another office chair and ropes her hands behind it. Then Natasha is cleave gagged with a thick, blue scarf. The intruder sets to tying up both secretaries until they're both thoroughly chair bound. Their pantyhose-clad ankles are tied and attached to the base of the chair. Lap ropes keep them secure. When the intruder leaves to rob the place, Candle and Natasha start to struggle and frantically looking for some means to escape. (Great close-ups of their sexy heels!) They twist and turn, scootching their chairs all around. Then Candle gets creative and tries to operate the fax machine to call for help!
The robber hears them and catches the two bound and gagged secretaries trying to escape their bondage! As punishment, he strips off Candle's blouse, then Natasha's sweater is pulled up, too. Our two office beauties are now chairtied topless together. And what beautiful tits these lovely damsels have! The thief takes out his cell phone and starts snapping photos for his own amusement and to scare them into not trying to escape again. Natasha and Candle are desperate to get away. But the intruder knows that as tightly as he tied them, they aren't going anywhere! He's confident that he's put some fear into Candle and Natasha that he might return again and Lord knows what peril they might encounter if he does come back! The office thief figures this is good enough that he can get back to the business of robbing the office. Natasha and Candle wait until they think he's out of hearing range and then they start struggling again, still trying to get loose. Our brave ladies know they're taking a chance, but it's better than being left alone in the office topless and tied up to chairs! What if no one finds them? They might be there for days! Desperate to escape, Natasha and Candle make quite an effort to get free from their bonds before the intruder returns. All this struggling gives us lots of great angles and close-ups, from everything from their high heels and gagged faces to their bare boobs jiggling.

File: cent_au_oid_2041_bdg.mp4
Size: 1.34 GiB
Duration: 13 min 23 s
Format: MPEG-4
Video: , 1920×1080 (16:9), 29.970 (30000/1001) FPS, ~14.0 Mb/s avg, 0.225 bit/pixel
Audio: Language: en, 48.0 kHz, , 2 ch, ~317 kb/s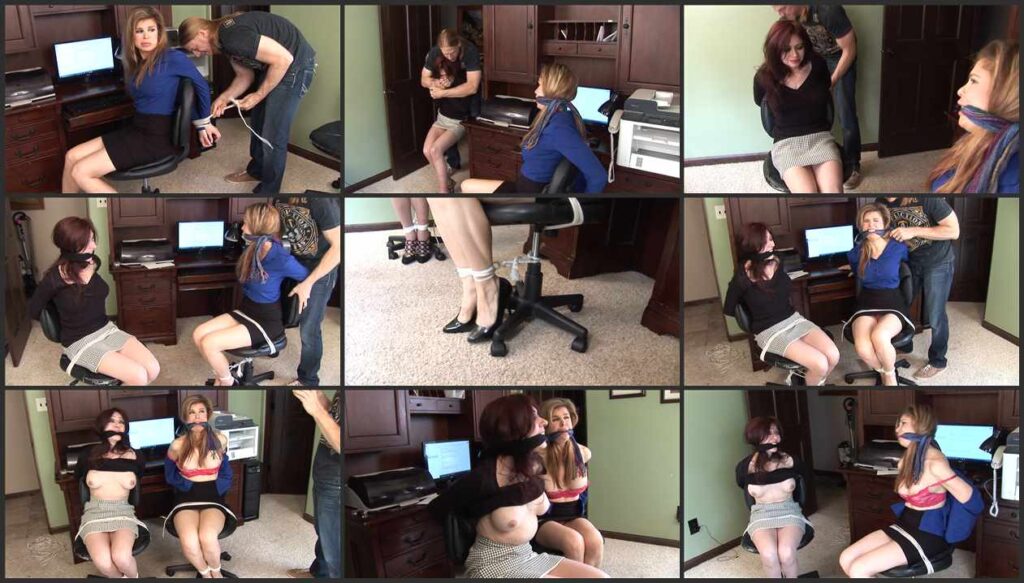 Realated posts: