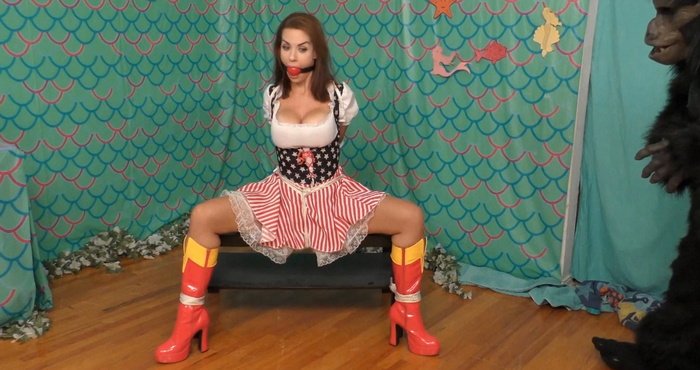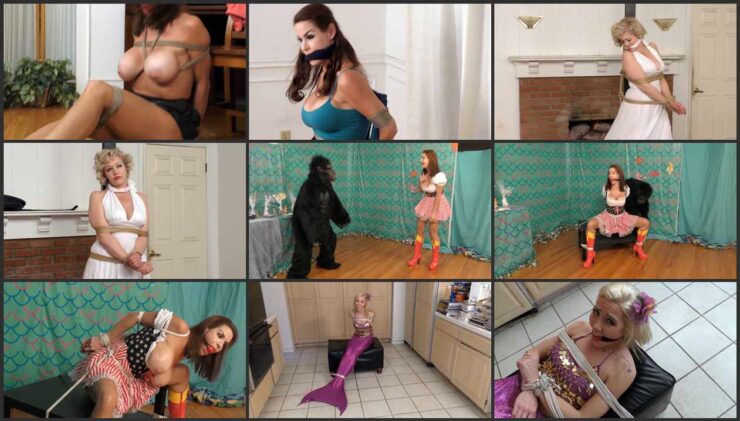 Watch online or download video:
Information
File
: amds_stopalexistaylor_complete.mp4
Size
: 1.68 GiB
Duration
: 45 min 2 s
Format
: MPEG-4
Video
: , 1920x1080 (16:9), 29.970 (30000/1001) FPS, ~5 196 kb/s avg, 0.084 bit/pixel
Audio
: Language: , 44.1 kHz, , 2 ch, ~128 kb/s
Antivirus status: Safe
Description
This sensational bondage fantasy is now bargain priced! In another American Damsels Network production, we get highlights from an exciting adventure series starring bondage superstar Alexis Taylor. As the tale opens, our busty reporter is taken captive after hours in her office at The Los Angeles Tribune. The danger-prone journalist is chair-tied and ballgagged in her skirt-suit and heels. Then she loses her jacket and top and she's bound sitting on the floor mostly naked as the intruders continue ransacking her office.
Days later, Alexis receives a disturbing video. Her twin, Anita, has been nabbed by unknown captors. The bound babe begs her sister for help, but the video is short on clues to her whereabouts or who may have taken her. We then see the unknown villains have cleavegagged their luscious hostage (dressed in a snug-fitted pencil skirt, camisole top and high heels), and she struggles in vain against the cruel ropes binding her. Then Anita's considerable breasts are bared for her captor's depraved amusement. But never fear, Alexis now begins her worldwide search to rescue her missing sibling.
Meanwhile in the tiny country of Freedonia, movie star Mary Jane Green has been taken prisoner by the evil Colonel Jackman. The Hollywood hottie is clad in an iconic dress, stockings and heels, and she's post-tied with her feet held wide apart by a spreader-bar. The villain removes her cleavegag and briefly interrogates the adorable blonde (and reveals her to be the notorious international spy "Mara Jana"), but she refuses to cooperate and so the whimsical baddie recreates a classic scene from cinema with his helpless hostage. Still post-tied and cleavegagged, Mary Jane's breasts are exposed, her skirt is lifted and a fan blows her dress to expose her stocking-tops and garters.
Alexis receives an anonymous tip regarding her missing sister, and so she crashes a costume party to get more information. Dressed up in a boots and a star-spangled dirndl, she's snooping around when she encounters a partygoer dressed as a gorilla. She quickly ascertains that it's no costume, and she tries to escape from the clutches of the damned dirty ape. The gorilla then uses a fiendish spray to paralyze his busty prey. Poor Alexis calls out for help, but no one comes to her aid and she's powerless to resist when the sinister simian returns with an ample supply of rope! Alexis is ballgagged and bound seated to a table with her legs tied wide apart, helpless to stop the randy primate when he exposes (and briefly fondles) her considerable breasts. Our plucky damsel tries her best to struggle free of her restraints, but she can't get loose. What will happen to her next? The story is followed by a brief preview of scenes from the pulse-pounding continuation the tale.
The series highlights are followed by another thrilling episode of the American Damsels Network series "Damsel Of The Sea." In "We Know Your Secret," sexy mermaid Janira Wolfe has been grabbed and tied up by an evil organization that's been conducting illegal weapon tests in the oceans. The aquatic government agent assures the miscreants they won't succeed with their crimes, but the villains ballgag their defiant damsel and she wiggles and squirms against her bonds. But despite her efforts, Janira realizes that she's really caught now. The feature concludes with some amusing production outtakes from "Stop Alexis Taylor!"