Summer challenged a pervert customer at a bar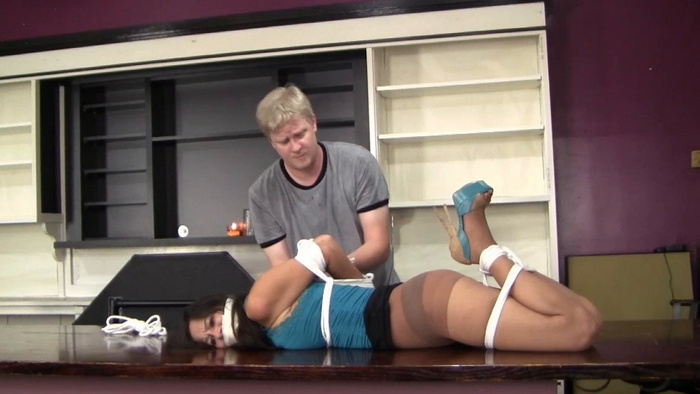 Summer was presiding over a pretty slow night at her bar job when suddenly a man rolled in right after last call. He asked her for a drink and she got smart with him about how they were closed and thre wasn't going to be any drink for him. The man didn't really have a drink on his mind and Summer was pretty aware of that by the large bundle of rope he had in his hands.
When she tossed attitude at him he ran around behind the bar and lifted her up onto her stomach on the bar and bound her wrists tightly behind her back. Summer twisted and turned and did her best to free herself from the grasp of the man but instead only ended up minus her high heels and with her ankles bound. Summer then did her best to try to crawl off the bar's front only to have the man crawl up and pin her arms to get her elbows tightly welded together. With her bonds complete the man takes a bar rag and stuffs poor Summer's mouth with it taking a roll of white microfoam tape after it to wrap multiple times around her head sealing the gag in tightly. She then works her way up onto her knees only to have her own positioning betray her as the man frogties her ankles tightly to her thighs.

File: ser_isly_summerthecustomerisalwayskinky_bdg.mp4
Size: 521 MiB
Duration: 13 min 56 s
Format: MPEG-4
Video: 1280×720 (16:9) at 30.000 fps
Audio: AAC LC at 192 kb/s 2 channel(s), 48.0 kHz Language: en
Realated posts: