Self Gag and mesmerism from Wonder Woman Terri. 4 Gag Video in one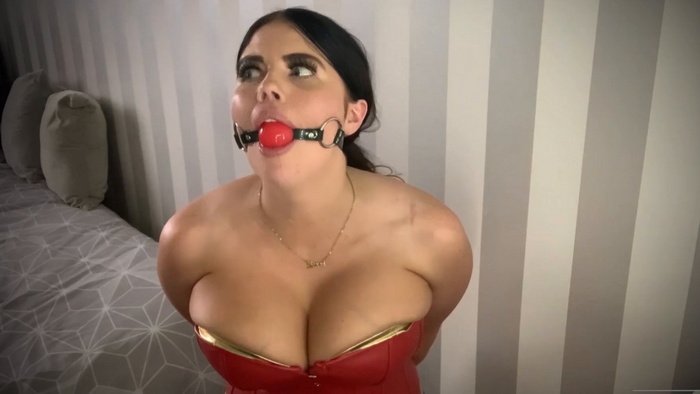 Gag 1
Wonder Woman is brought under hypnoses by a unknown villain. She has to put on a white cloth cleave gag and when his fingers snap she doesn't even know what happened to her.. She gag talks loads and tries to escape from the hypnoses that her to keep her hands behind her back. When the villain thinks she had enough of this gag he snaps his fingers again and she is to take her gag off and put another on.
Gag 2
Wonder Woman is now to put on her second gag. She stuffs in a blue panty and tightly wraps around a pink bandage as a cleave gag. When the villain snaps his fingers again she comes back out of her self gag hypnoses. Wonder woman now totally surprised by the new gag tries her best to resist the villain but her powers are superior to the strong hypnoses. The only thing she can do is MMPPHHING for help trough the stuffed cleave gag. The villain very satisfied with the results of the hypnoses now snaps his fingers again. Wonder Woman now completely in trance again has to pull off the tight wrap.
Gag 3
Wonder Woman is in a deep trance with the already very wet panty in her mouth. She has to cut a piece of Tergaderm Tape and pushes it onto her face applying a stuffed clear tape gag. There is the finger snapping again and she is now very helpless again. She tries to work off the gag but the hypnoses makes it impossible to use her hands to do so. She tries screaming and calling for help but all that is coming out of her mouth is muffled MMPHING. She begs the villain to let her go but he doesn't give in at all. When his fingers snap again she pulls off the very sticky tape and pulls out the very wet panty.
Gag 4
The villain has planned one more gag for the powerless Wonder Woman. She is to put a red ballgag into her mouth and secure the buckle as tight as possible. The Villain let his fingers snap and she is immediately back at being a damsel in . She gag talks a lot with the ballgag in while doing this the drool drips out of her mouth. Wonder Woman now in full desperate mode begs again to finally let her go. The villain doesn't give in and let her beg even more. When his fingers snap again she takes off the tightly secured ballgag and she is left in trance.

File: gag_tk_terri_ww_bdg.mp4
Size: 1.08 GiB
Duration: 24 min 22 s
Format: MPEG-4
Video:, 1920×1080 (16:9), 50.000 FPS, ~6 046 kb/s avg, 0.058 bit/pixel
Audio: Language: en, 48.0 kHz,, 2 ch, ~317 kb/s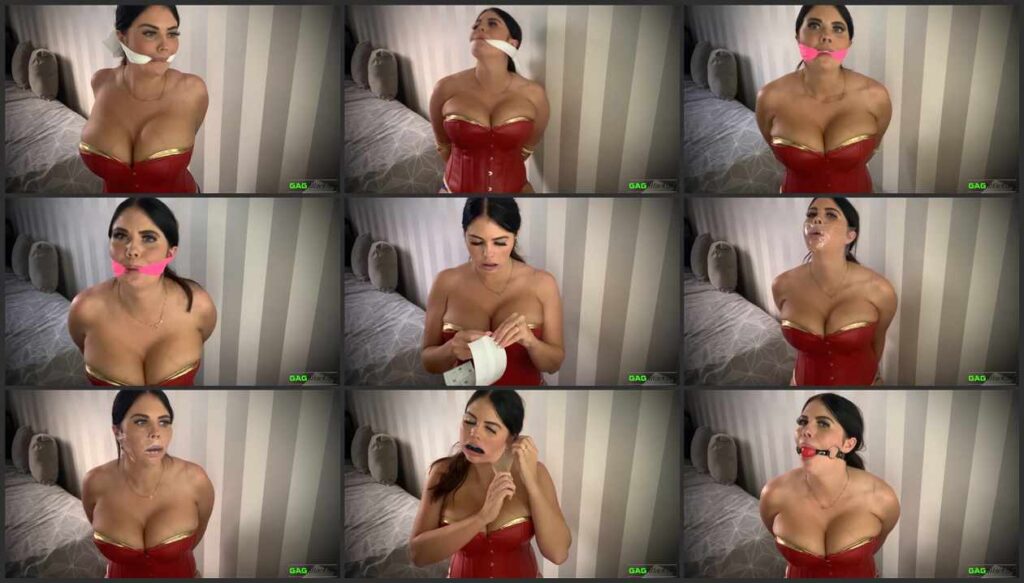 Realated posts: