Mummification Layered Gag for topless Aubrey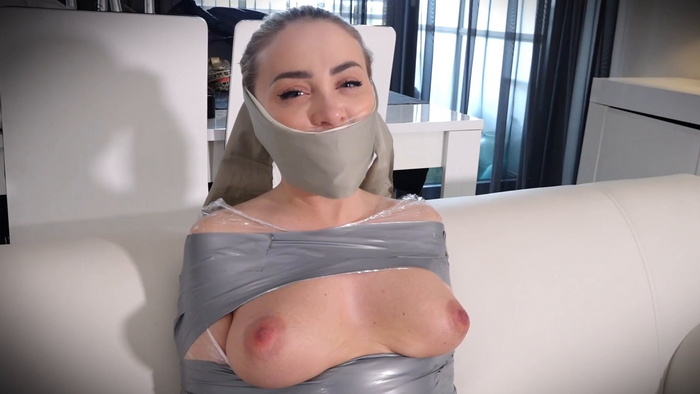 Aubrey is just finishing up the topless shoot with her photographer when he has a nature inspired idea. He wants to tell the story of the butterfly. Aubrey agrees on it only because of the artistic nature of the shoot.
Layer 1 Aubrey is fully mummified from top till bottom when the photographer wants to do something else while she is fully mummified with her boobs out. He stuffs her mouth with a big green sponge and tightly wraps around clear PVC tape to keep it in. Aubrey tries to protest but the sponge is stuffed in her mouth too fast all that she can do is MMMMMPPPHING. You get a close up of her struggling in the tight mummification with a very tight wrap gag.
Layer 2 The photographer wants to put Aubrey in even more trouble and wraps around a layer of 3″ Microfoam tape to make the gag a bit more effective. Aubrey isn't too happy about how the situation escalated and tries to protest but all that is coming out of her mouth is loud muffled gag talk. You get an overall view of her struggling and heavily gag talking in her mummification with a close up showing off the tight gag as well.
Layer 3 Now that Aubrey is already a bit heated up by the gag talking and struggling she gets a third layer a olive green OTM gag. Aubrey does her best gag talking a lot through the tight multi layered gag but all her attempts are getting more futile. You get an overall view of her helpless situation with a close up as well.
Layer 4 Aubrey still stuck and helpless is getting a fourth layer she gets a bit more quiet in her gag talking not protesting too much anymore and saving a breath from time to time. Her fourth layer is a tight black PVC wrap gag. Aubrey now fully muffled up is trying to produce any sound all you can hear is MMMMPPPHING. You get a pan zoom and close up view.
Layer 5 & 6 The photographer finishes her multiple layer gag off with a purple OTM gag with a top layer of Silver PVC tape. Aubrey does her best struggling and trying to get her gag off but all her attempts are completely futile no way she will escape this tight mummification and never will she be able to work the tight multi layered gag off.. All she can do is wait for help to arrive after all her loud MMMMPPPHING. You get a overall view of Aubrey struggling and a close up view. *In this FULL version the ungagging/Mummification process/Releasing are bonus minutes* Featuring: Aubrey

File: gag_tk_aubrey_mummification_layered_gag_bdg.mp4
Size: 1.10 GiB
Duration: 30 min 48 s
Format: MPEG-4
Video:, 1920×1080 (16:9), 30.000 FPS, ~4 925 kb/s avg, 0.079 bit/pixel
Audio: Language:, 44.1 kHz,, 2 ch, ~152 kb/s
Realated posts: