Ludella tries to work on the knots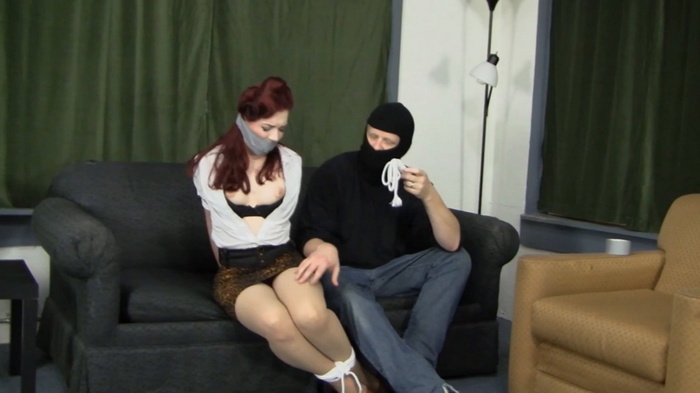 Ludella was walking into her den after coming home for lunch and she didn't seem to notice the large man looming near her dressed in mostly black. He grabs her and pins her arms behind her back grabbing some rope and quickly binding her wrists behind her back. She pleads with him not to hurt her as he continues his grim business of binding her as she squirms and struggles. Next he pulls her sexy legs across his lap and takes a rope attaching them together as she tries to kick her legs in an attempt to free herself from his grasp. He tells her that he's currently on the run and just needs a place to hide and unfortunately her place is where he's going to hold up. Finishing her ankle ropes he moves on to more rope which he uses to bind her elbows tightly together. Next he grabs a large piece of white cloth and shoves it roughly into her mouth sealing it with multiple wraps of silver tape. Now that poor Ludella is tightly bound and gagged the man takes a bit to appraise his scenery by unbuttoning her blouse and taking her breasts out of her bra.
Deciding to get some food he leaves her bound on the couch and heads off to raid her fridge. Coming back he's delighted to find that she's not managed to loosen any of her knots. He stands Ludella up and her to turn around in a circle slowly showing off her lovely assets as entertainment. Ludella's face is obviously wracked with humiliation at the act that he's making her do for his own benefit but there's nothing she can do but go along and hope he leaves her alone eventually. Finally he takes his leave of her and she desperately tries to work on the knots holding her wrists hostage but they just seem to be a bit too far away for her prying fingers to reach.

File: ser_isly_lh_robbedleopardsi_bdg.mp4
Size: 675 MiB
Duration: 14 min 6 s
Format: MPEG-4
Video: 1920×1080 (16:9) at 30.000 fps
Audio: AAC LC at 192 kb/s 2 channel(s), 48.0 kHz Language: en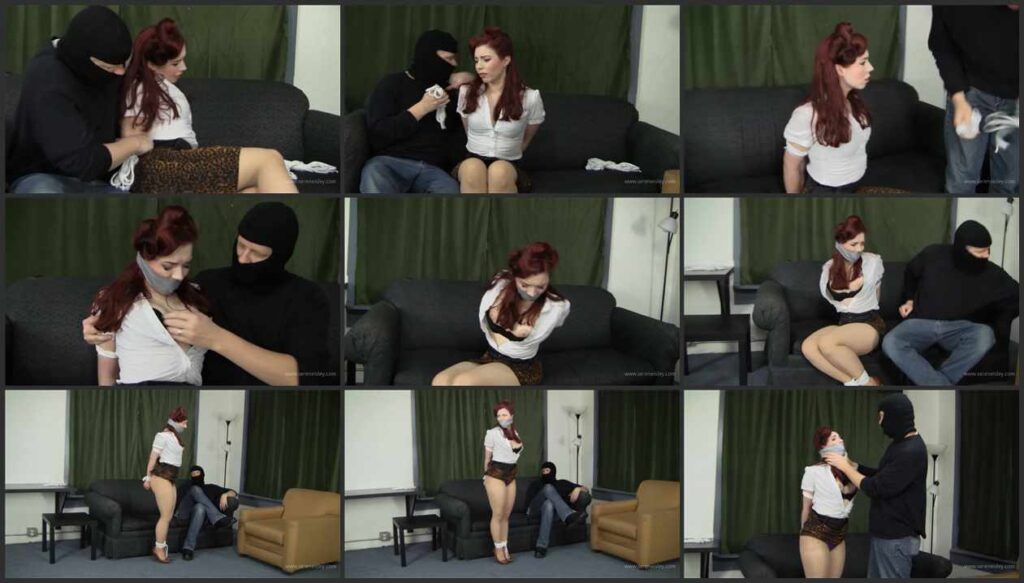 Realated posts: