David ties up Lola on a date at home

David brings home his lovely date and invited her in. He gives her the tour of the house but stops in the bedroom to take a seat. As soon as Lola sits down, his hands go immediately to her breasts, groping her. She is horrified that he thinks she is that easy. She pulls away from him but he manages to pull her arms behind her back. He grabs some rope he kept stored under the pillow and coils it around her wrists and elbows cinching them tightly together.
Lola calls David a pig and can't think of how things could have gone any worse. When he tries to shove something in her mouth, she drops the attitude, falling to pieces and begs him not to stuff anything inside. He shoves the big shiny panties in her mouth and winds clear packing tape around her head, allowing him to see the purple panties in her mouth. She whimpers as the tape tightens down.
David repositions Lola on the bed and lashes her ankles together. He seems to be enjoying this more and more by the minute. He toys with her acting like he's going to shove her off the bed just to hear her scream with fear into the gag. He picks up another rope and ties her into a hogtie securing the rope to her elbows and pulling her ankles up before knotting the rope off. She squirms beneath him but knows she has little hope of escaping.

File: ser_isly_cdl_keptuntilfinishedsi_bdg.mp4
Size: 728 MiB
Duration: 15 min 9 s
Format: MPEG-4
Video: 1920×1080 (16:9) at 30.000 fps
Audio: AAC LC at 192 kb/s 2 channel(s), 48.0 kHz Language: en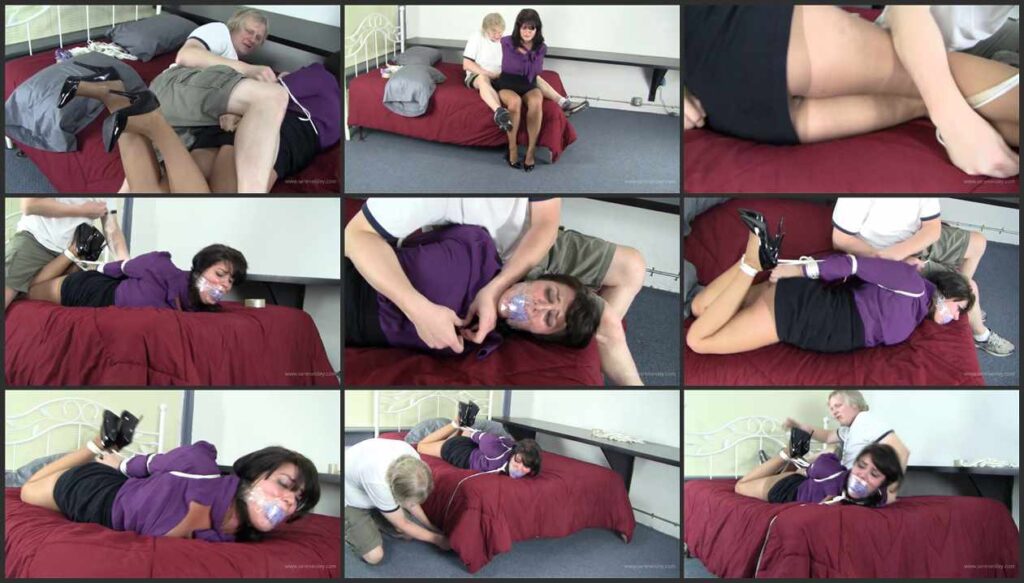 Realated posts: